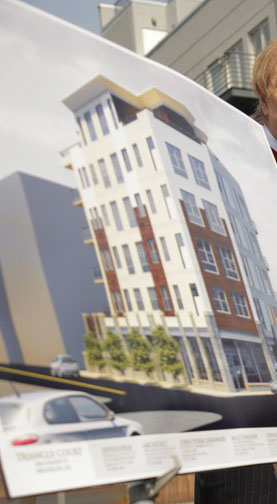 Triangle Court, proposed design
Architect: KOH Architecture
Photo: nycmayorsoffice
Via Azi Paybarah, I came across this photo on the Mayor's flickr stream (and also learned that the Mayor had a flickr stream).
Azi (and others) seem to be interested in the political ramifications of the photo (that's Vito Lopez's head cropped out at the top corner), but I was more interested in the design for the proposed building proposed for the former gas station site at Keap, Grand and Borinquen. The new building is designed by KOH Architecture of Little Neck/Flushing. Unfortunately, it will do nothing to raise the bar for design in the Union Avenue triangle (if anything, it lowers the bar quite a few notches).