So let's see if we can end parks week on a (slightly) up note, by highlighting some of the good news out there.

Transmitter Park, original (2008) design.
Image via Newyorkshitty
First off, Transmitter Park, which is slated to go in at the former WNYC transmitter site at the foot of Greenpoint Avenue. The property is owned by the City, so acquisition is not an issue. A design (above) was issued more than a year ago. That has required some modification to comply with NYState DEC regulations, but that has all been worked out, and the fish are protected. So everything should be poised to move forward, right? Well sort of – the Daily News reported this week that Transmitter Park is expected to be completed in Summer 2011. And it's not clear to me that the money for this capital project has even been allocated. Which in this economic environment spells trouble.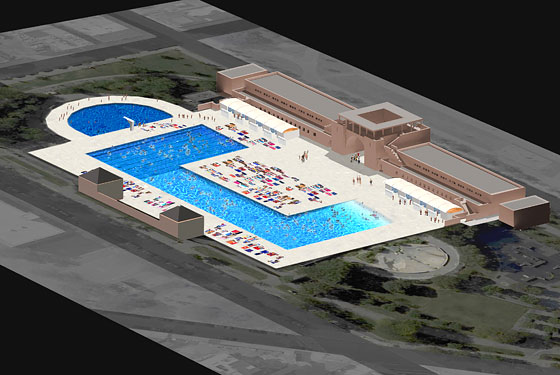 McCarren Park Pool, preliminary design
Rogers Marvel Archtiects
One project where the money has been allocated and construction has started is McCarren Park Pool. The Department of Parks & Recreation selected an architect over a year ago and held a successful series of community charettes to get ideas on programming, etc. That resulted in an exciting design, which the City has allocated funds to construct – $50 million in funds, in fact. Unfortunately, $50 million does not go as far today as it did two years ago, so the diving pool has been value engineered out of the project. But the main pool and the restoration of the landmarked pool house is going forward.