First they came for the teachers, now it's firefighters (or at least firehouses) that are on the budgetary chopping block.
There are 20 firehouses on the City's list of potential firehouse closings released today, and 40% of them are in Brooklyn. Three of the eight Brooklyn houses slated for closing are in North Brooklyn:
In addition, Ladder 128 at 33-51 Greenpoint Avenue in Long Island City is a backup unit for many parts of Greenpoint.
So basically, every neighborhood in North Brooklyn is cut. Well, every neighborhood except the Northside – it lost its firehouse in 2003. At least that one didn't go down without a fight.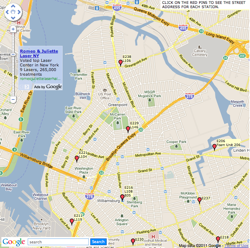 Brooklyn fire houses
Source: Brooklyn.com
I haven't delved into the numbers behind all of these closings in our community, but the removal of Ladder 104 from the Southside will leave only three units in Williamsburg west of the BQE (Engine 221, which will remain at South 2nd Street and Engine 229/Ladder 146 on Richardson Street just south of McCarren. This in a neighborhood with a booming population and many tall buildings that can't be reached by a regular engine company.
The Southside has some of the largest concentration of tenements in the area, and most of these are 5 and 6 stories tall. The area west of the BQE has also seen the largest concentration of new mid- and high-rise apartment buildings in the 2000s housing boom. One would think that would be an area that could use a ladder company.
Meanwhile, the area directly served by Ladder 104 (roughly from Broadway to McCarren Park, west of the BQE) has seen a population increase of 22.5% (over 6,300 people) in the past 10 years. And the area immediately surrounding Ladder 104's house is among the most densely populated areas in North Brooklyn (over 21,000 people live in Ladder 104's census tracts or one of the 5 abutting census tracts).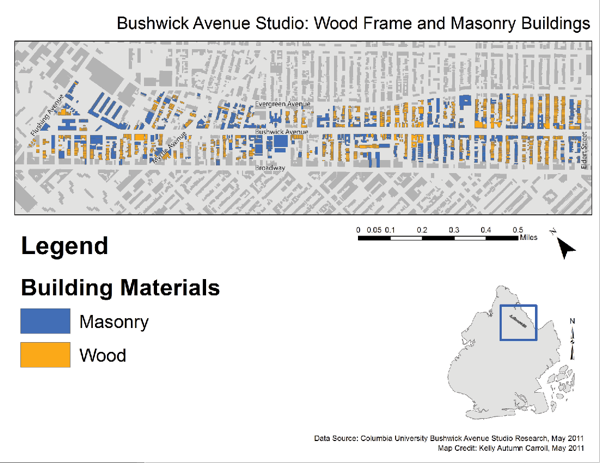 Wood frame buildings are prevalent in Bushwick
Map: Bushwick Avenue Studio
Over in Bushwick, the closing of Engine 218 will leave no company in the center of a neighborhood that has a large percentage of wood frame houses (which, as we learned last week, go up quickly). And that wasn't the first fatal fire in that neighborhood this year.
But I'm sure all of this has been thought through.